Collection: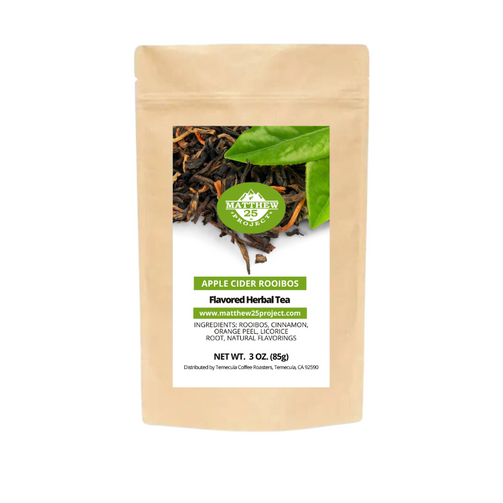 Collection:
Apple Cider Rooibos Tea: A Spicy-Sweet Symphony of Wellness
Apple Cider Rooibos Tea: A Spicy-Sweet Symphony of Wellness
Regular price

$14.95

~ includes FREE U.S. Shipping

Regular price

Sale price

$14.95
Tax included.
Prepare your taste buds for a tantalizing journey with our Apple Cider Rooibos Tea, an herbal blend that harmoniously blends spicy warmth with natural sweetness, all while offering the comfort of being naturally caffeine-free. It's not just tea; it's an experience that immerses you in the heartwarming essence of South African tradition and the healthful benefits of Rooibos.
Rooibos: The Red Bush Tea Wonder:
At the heart of our Apple Cider Rooibos Tea lies Rooibos, the beloved South African treasure, known locally as "Roy-bos." This enchanting herbal tea alternative is celebrated for its unique earthy flavor and an impressive list of health benefits. Grown amidst the rugged landscapes of South Africa, Rooibos captures the spirit of the region in every leaf.
A Spicy-Sweet Medley:
Our Apple Cider Rooibos Tea is a fusion of flavors that will delight your senses. The spicy undertones bring the comforting nostalgia of sipping on warm apple cider, while the inherent sweetness of Rooibos adds a natural touch of delight. It's a harmonious medley of flavors that embraces your palate with a soothing, spicy-sweet symphony.
The South African Wellness Elixir:
Rooibos is more than just a flavorful brew; it's a wellness elixir. Known for its antioxidant properties and potential health benefits, it's often celebrated for its ability to boost the immune system and promote overall well-being. As you sip our Apple Cider Rooibos Tea, you're not just enjoying a delicious cup, but also embracing the healthful legacy of Rooibos.
A Cup of South African Warmth:
Our tea offers more than just a beverage; it's a journey to the heart of South African hospitality and the warmth of its people. With every sip, you'll feel as if you're a guest at a fireside gathering, sharing stories and laughter with friends. It's a cup of camaraderie and contentment.