Collection: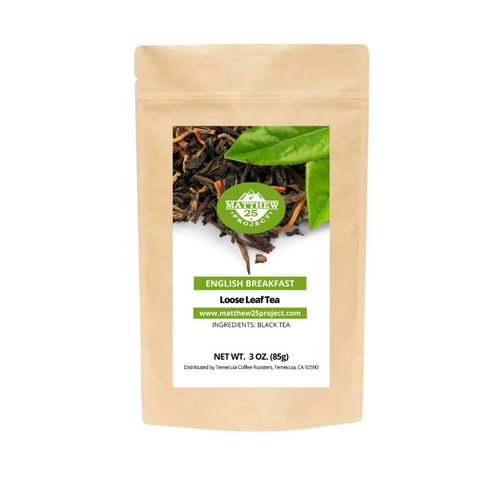 Collection:
English Breakfast: A Timeless Classic with a Rustic Elegance
English Breakfast: A Timeless Classic with a Rustic Elegance
Regular price

$14.95

~ includes FREE U.S. Shipping

Regular price

Sale price

$14.95
Tax included.
Step into the world of classic elegance and enjoy the timeless allure of our Matthew 25 Project English Tea. This is not just any tea; it's a celebration of tradition, simplicity, and the art of a perfect cup of tea.
The Essence of Breakfast Tea, Perfected:
Our English Tea is the epitome of what a true Breakfast Tea should be. It's the warm embrace that welcomes your day, the unwavering companion that stands strong amidst your morning rituals. Not too complicated, yet precisely what your palate craves, it's the reassuring start to your day.
Strength and Versatility:
Matthew 25 Project English Tea possesses the strength to hold its own when mingled with milk and a dash of sugar. It's the dependable foundation of the beloved British morning ritual and serves as the backdrop for hearty breakfasts, contemplative moments, or shared conversations over steaming mugs.
A Taste of Tradition:
The heart and soul of our English Tea lie in its rustic sweetness. It's a cup that harks back to simpler times, evoking the comforting nostalgia of the countryside and cozy cottages. With each sip, you'll taste the earthiness of the land, a touch of sweetness, and a dash of invigoration.
A Mélange of Continents:
Our English Tea is a harmonious blend of African and Indian teas. The African tea lends its briskness and vitality, while the Indian tea brings forth depth and richness. The result is a flavor profile that's complex yet easy to embrace, offering a perfect balance that keeps you coming back for more.
Good News, All Day Long:
This English Tea is more than just a morning ritual; it's your steadfast companion throughout the day. It brings you good news, warmth, and a touch of rustic charm in every cup. Whether you're sipping it during a reflective moment or sharing it with friends, our English Tea embodies the spirit of togetherness, simplicity, and the joy of life's small pleasures.
Rediscover the Elegance of Simplicity:
At the Matthew 25 Project, we invite you to rediscover the beauty in the simple things. Our English Tea is a testament to the enduring allure of uncomplicated pleasures and the comfort of tradition. It's a cup of warmth, a piece of tradition, and a taste of rustic elegance. Embrace the timeless charm of our English Tea and let its familiar embrace enrich your day from sunrise to sunset.
CUP NOTES:  Fruity, Sweet
BREW TIME & TEMP:  2.5G per 12oz cup, 195F, 5-7 Minutes.