Collection: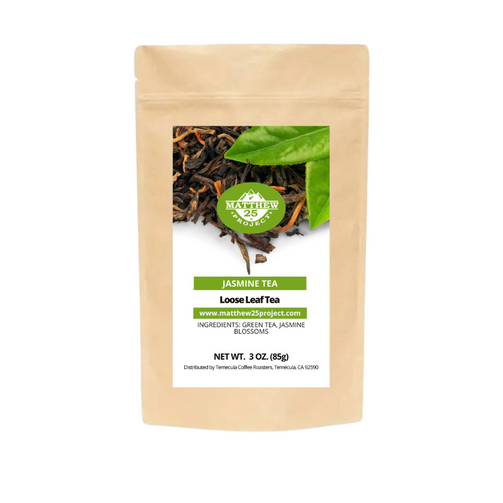 Collection:
Jasmine Tea: A Symphony of Aromatic Harmony
Jasmine Tea: A Symphony of Aromatic Harmony
Regular price

$14.95

~ includes FREE U.S. Shipping

Regular price

Sale price

$14.95
Tax included.
At the Matthew 25 Project, we proudly present our exquisite Jasmine tea, a true masterpiece crafted with unwavering dedication and respect for tradition. Our Jasmine tea is more than just a beverage; it's an experience that beautifully weaves together the essence of freshly plucked jasmine blossoms and the finesse of green tea. Here's what makes our Jasmine tea a testament to the art of tea-making:
A Marriage of Floral Elegance and Green Tea Expertise: Our Jasmine tea is a medium-bodied elixir that gracefully marries the bright, fragrant blossoms of freshly plucked jasmine with the smooth, silky allure of green tea. This union is not rushed; it's a dance of patience and precision. Our green tea leaves are meticulously picked by hand, ensuring that only the finest young shoots are selected. These tender leaves are then gently prepared, awaiting the perfect moment to blend with the jasmine blossoms.
Unveiling the Art of Timing: The secret to our Jasmine tea's enchanting aroma and flavor lies in the precise timing of this union. The green tea, with its inherent freshness and delicate vegetal notes, is set aside, patiently waiting for the right moment. We wait until the jasmine blossoms are at the peak of their aromatic prowess, and then the magic happens. These two elements, green tea and jasmine blossoms, are paired at the exact moment when their flavors meld into a harmonious symphony.
A Symphony of Aromatic Bliss: The result is a cup of Jasmine tea that sings with a melody of fruity notes and floral undertones. As you take your first sip, you'll be greeted by the natural sweetness of the jasmine blossoms, which interlace seamlessly with the medium-bodied green tea base. The infusion is both sweet and refreshing, delivering a unique and satisfying taste that tantalizes the palate with each sip.
For the Discerning Tea Enthusiast: Our Jasmine tea is not just a one-and-done experience. It's a tea that gives back, offering multiple steepings of delightful flavor and aromatic indulgence. With each infusion, you'll find new dimensions and subtleties, making it a tea of choice for the true connoisseur.
In every cup of the Matthew 25 Project Jasmine Tea, you'll discover a story of patience, tradition, and the purest expression of nature's beauty. Indulge in the serenity of freshly plucked jasmine blossoms and the artistry of handpicked green tea. This is not just a tea; it's a celebration of the union of two extraordinary elements, brought to you with love, dedication, and a commitment to making the world a better place, one sip at a time.
INGREDIENTS: Green Tea, jasmine blossoms
CUP NOTES:  Floral, Vegetal, Sweet
BREW TIME & TEMP: 2.5G per 12oz cup, 175F, 4-6 Minutes.
OUR PRICES INCLUDE FREE U.S. SHIPPING