Collection: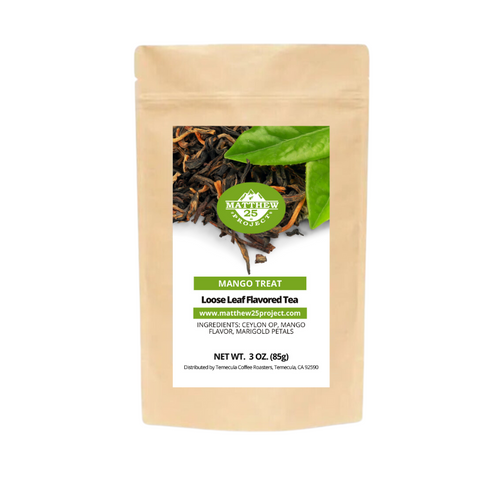 Collection:
Mango Treat Tea: A Tropical Escape in Every Sip
Mango Treat Tea: A Tropical Escape in Every Sip
Regular price

$14.95

~ includes FREE U.S. Shipping

Regular price

Sale price

$14.95
Tax included.
Indulge in the essence of summer year-round with our Mango Treat Tea, a delightful blend that encapsulates the warmth of the sun, the sweetness of ripe mangoes, and the pure joy of life's simple pleasures. This is more than just tea; it's a tropical escape, an invitation to savor the spirit of summer with every cup.
A Taste of Sunshine:
Our Mango Treat Tea embodies the very essence of sweetness and smoothness. It's the taste of sun-kissed mangoes, plucked at the peak of ripeness, and fused with a naturally fruity tea. Each sip is a warm, comforting embrace, a ray of sunshine captured in a cup.
A Symphony of Flavors:
With every infusion, you'll delight in the subtle hint of mango, adding a layer of tropical paradise to the already fruity tea base. It's as if you've embarked on a journey to a lush, exotic orchard, where the fragrant aroma of mangoes fills the air.
The Versatility of Joy:
Our Mango Treat Tea is the epitome of versatility. Enjoy it as a soothing and comforting hot tea, wrapping you in its tropical embrace on a cool day. Or, transform it into an incredibly refreshing iced tea, perfect for those warm, sun-drenched afternoons. This tea adapts to your mood, the season, and the occasion, making it a delightful treat any time of day.
Sip, Savor, Repeat:
Whether you're unwinding on the porch, hosting a summer soiree, or simply seeking a moment of tranquility, our Mango Treat Tea is your companion to tropical delight. Each cup is a retreat to sun-soaked beaches and the sound of gently swaying palm trees.