Collection: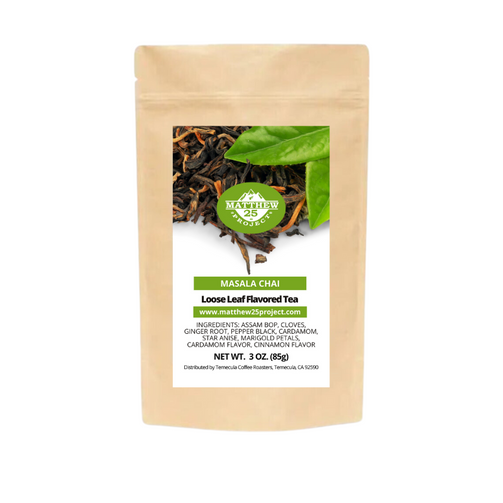 Collection:
Masala Chai
Masala Chai
Regular price

$14.95

~ includes FREE U.S. Shipping

Regular price

Sale price

$14.95
Tax included.
Welcome to an extraordinary tea experience with the Matthew 25 Project's Masala Chai, a tribute to the bold and captivating flavors of India. This is more than just tea; it's a sensory journey, a symphony of spices and tea leaves that awakens your senses and ignites your spirit.
The Essence of Authentic Indian Masala Chai:
Our Masala Chai embodies the heart and soul of traditional Indian Masala Chai. It's a celebration of robust character, a sensory explosion of full-bodied richness, enticing aromas, and an intense, spicy profile that's both comforting and invigorating.
A Journey to the Spice Bazaars:
Picture yourself strolling through the bustling spice bazaars of India, where fragrant spices are skillfully blended to create this elixir of life. Our Masala Chai is a masterpiece of flavor that includes a harmonious blend of spices such as cardamom, cinnamon, cloves, ginger, and black pepper, carefully selected and expertly combined.
Versatility in a Cup:
Our Masala Chai offers a unique versatility. It can be prepared traditionally with milk and a touch of sugar, providing a velvety and heartwarming experience reminiscent of Indian households. The rich, spicy notes marry perfectly with the creaminess of milk, creating a comforting embrace for your taste buds.
But it doesn't stop there. Matthew 25 Project Masala Chai is also a captivating solo act. Sip it without milk or sugar, and you'll encounter an invigorating and bold flavor that is perfect for those who crave a more intense experience. The interplay of spices and tea leaves creates a captivating tapestry of flavors that will awaken your senses and keep you coming back for more.
An Invitation to Sip and Savor:
With every cup of Matthew 25 Project Masala Chai, you are invited on a journey through the vibrant streets of India, where tradition and modernity coexist. This tea is not just a beverage; it's an immersion into a culture that cherishes life's simple pleasures and the art of conviviality.
Whether you choose to enjoy it as a comforting, creamy hug or as an invigorating solo adventure, our Masala Chai embodies the spirit of chaiwalas on the streets of India, bringing their tradition and flavor straight to your cup. Sip, savor, and let your taste buds dance to the rhythm of our bold and authentic Masala Chai.