Collection: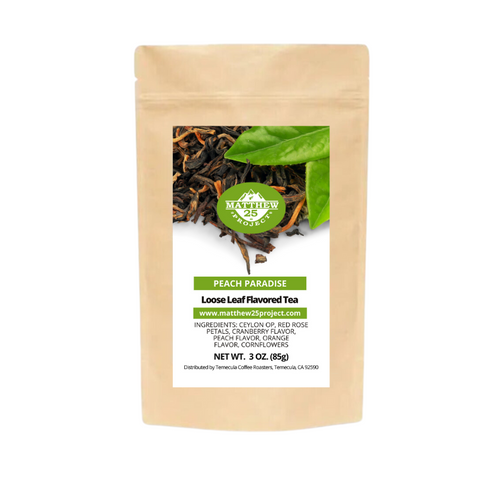 Collection:
Peach Paradise Tea: A Sip of Fruity Bliss
Peach Paradise Tea: A Sip of Fruity Bliss
Regular price

$14.95

~ includes FREE U.S. Shipping

Regular price

Sale price

$14.95
Tax included.
Indulge in a symphony of flavors with our Peach Paradise Tea, a tantalizing herbal blend that beckons you to paradise in every sip. This is not just tea; it's a journey through lush orchards, a dance of fruity sweetness and floral elegance that transports you to a world of pure delight.
Fruit-Infused Euphoria:
Our Peach Paradise Tea is a vibrant mosaic of flavors that dazzles the palate. It's fruity, smooth, aromatic, and sweet, all at once. Picture the succulent juiciness of ripe peaches harmonizing with the tangy allure of cranberries, and the soft, silky embrace of rose petals. This infusion is a paradise of flavors in a single cup.
A Symphony of Fruity Elegance:
The robust presence of fruity peach is complemented by the subtle sour notes of cranberry, resulting in a tantalizing juxtaposition of flavors. These elements are beautifully intertwined with the soft, floral essence of rose petals, creating a fragrant and harmonious experience that captures the essence of paradise.
Versatile Delight:
Our Peach Paradise Tea offers versatility as refreshing as a tropical breeze. Enjoy it piping hot to embrace the full bouquet of flavors, or transform it into an invigorating iced tea, perfect for warm afternoons and sunny days. It's a cup of bliss that adapts to your mood and the season.
A Slice of Paradise, Anytime:
Whether you're unwinding with a good book, sharing stories with friends, or simply seeking a moment of solitude, our Peach Paradise Tea ensures that paradise is never far away. The burst of fruity sweetness and the delicate caress of rose petals are your passport to serenity, right in the comfort of your favorite mug.